Giessegi launches the new 2023 Uno per Tutti collection of kids' bedrooms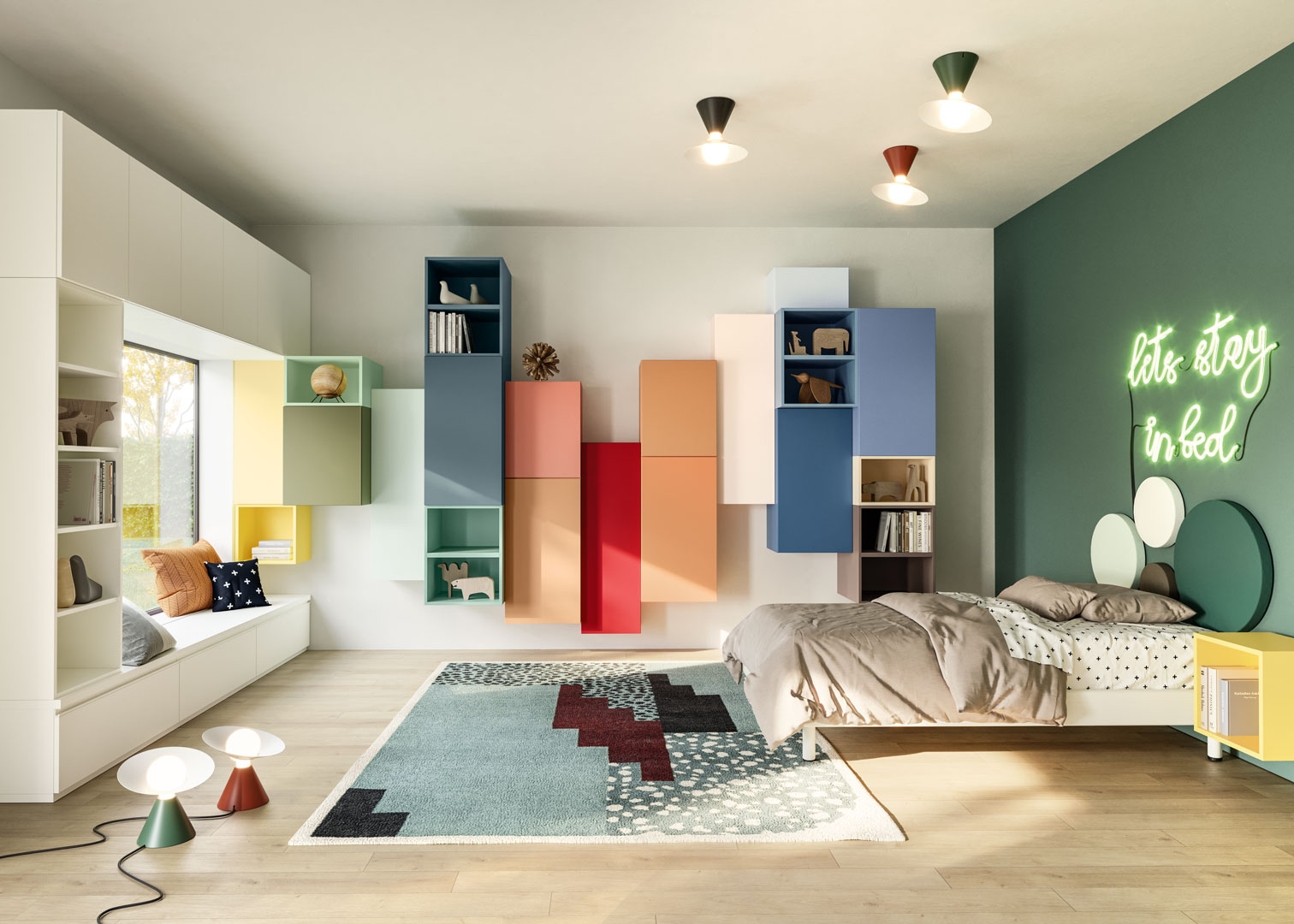 Fantastic solutions that know no limits, just like the dreams of children and teenagers: this is the secret of the new 2023 Uno per Tutti collection of kids' bedrooms bearing the Giessegi label.
The catalogue includes furnishing proposals that suit the needs of everyone.
Each furnishing project is totally unique not only due to the quality of the materials used, but also due to the enormous flexibility for creating an infinite range of customised compositions.
CONTEMPORARY FINISHES AND COLOURS LIKE NEVER BEFORE
The visual appeal of the kids' bedrooms in the 2023 Uno per Tutti catalogue stems from current stylistic trends, but the colours are the true protagonists in this new collection.

Pastel nuances (such as Milkmint, Saffron, Skin, Princess, Cloud, Apricot and Celery) are side-by-side with darker shades, creating a palette of nature-evoking hues ranging from greens (Alpine, Caribbean and Olive) to warmer colours (Terracotta, Coral, Pompeian and Coffee).
The wood finishes are totally changed. Ash Cloud takes the place of Birch, Knotted Oak is the new Beech, and similarly the refined, versatile Wood Ashes is a total replacement for the Elm wood tint.
NEW ITEMS TO MAKE EVERY KID'S BEDROOM PRACTICAL AND UNIQUE
The study corner can be organised with originally designed desks, chests of drawers with open spaces and attractive little shelves with their own coat hanger knobs.
The dressing-table is to all intents and purposes a desk but is suitable for those who don't want to do without a convenient storage unit with mirror and organiser.
Conversely, in smaller spaces you can fit wall-mounted desks that prove to be the most practical solution due to their compact size and eye-catching design.

What about the bed? There's one to suit all tastes!
Spacious bunk beds, with padded headboard fitted with storage pockets, and beds with new shaped wooden headboards and LED backlight.

Giessegi also thinks about the little ones: cot with height-adjustable platform, changing table with drawers and compartments for safely storing everything you need, compact two-door wardrobe and large drawer that can fit into bedrooms with limited space.
EYE-CATCHING DESIGN WITH HANDLES AND QUADRO RAILS
To give an exclusive and playful touch to bedrooms, Giessegi offers a vast, new range of handles and knobs. In addition, there are also practical finger-rail handles and full-height handles for doors and drawers that can be customised with one of the thirty-two available colours.

All drawers offer maximum performance, aesthetics and comfort with the Quadro rails. With their completely concealed fitting, they ensure long life and ongoing excellent performance, providing convenient vertical and lateral stability.
Discover all the kids' bedroom in the new Uno per Tutti catalogue by Giessegi!