FLY Collection 2023: the new line of kids' bedrooms bearing the Giessegi label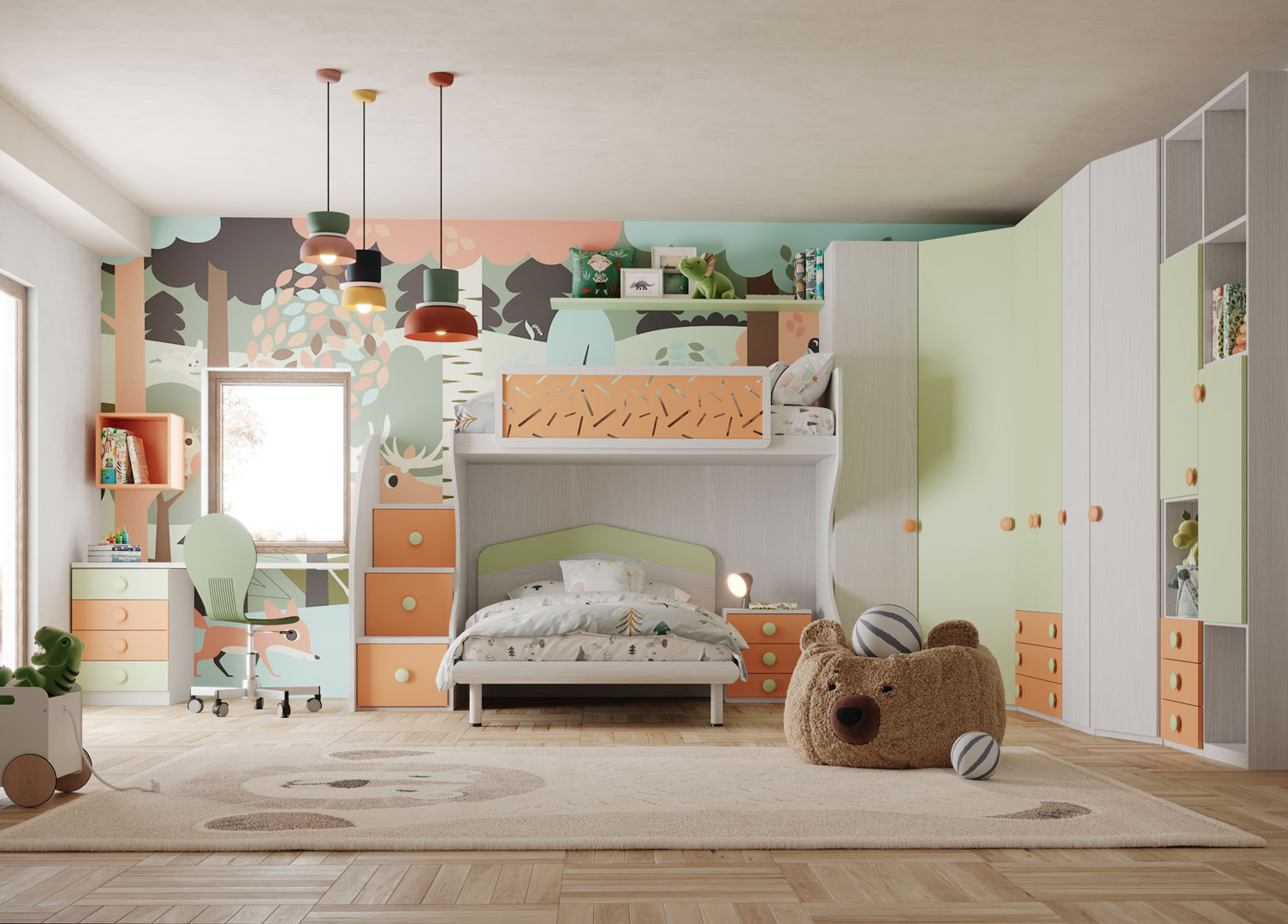 With an eye on the latest trends in the world of furniture, Giessegi offers the new line of FLY 2023 kids' bedrooms: a varied selection of practical, functional and comfortable compositions.
Versatile and colourful settings, suitable for girls and boys throughout their teenage years, which leave room for the personality of the choosers... because growing up is fantastic!
MAKE WAY FOR COLOURS
The new line of FLY 2023 kids' bedrooms offers two types of tints and 14 colours in melamine.
There are lots of new ideas: Wood Ashes that takes the place of Cherry and the Whitewash finish which goes perfectly in lots of combinations.
What about the latest trends? Pastel shades!
That's why this new collection includes Cream, Apricot, Dusty Pink, Sage and Celery.
BEDS AND WALK-IN WARDROBES TO SUIT EVERY NEED
The vast range of Giessegi furnishing accessories has a number of new additions with innovative proposals for beds and walk-in wardrobes.
The FLY 2023 collection includes new upholstered and wooden beds, such as:
Slice and Arrow: wooden beds (with footboard, rounded bed frame or storage compartment);
Tender, Cuore and Smith: upholstered beds (with rounded wooden bed frame or straight bed frame in removable fabric or with storage compartment in removable fabric).
For those who need to double the sleeping space, bunk beds and mezzanine beds are a practical solution (the latter can also be made in the corner version).
Giessegi also thinks carefully about organising kids' clothing with linear and corner walk-in wardrobes that allow you to exploit all available space even in small-sized kids' bedrooms.
EVERY COMPOSITION HAS THE RIGHT HANDLES AND KNOBS
Round ones, square ones and heart-shaped…
The handles and knobs of the FLY 2023 collection by Giessegi provide that feature that makes every bedroom unique.
A perfect arrangement between new shapes, sizes and colours that can offer infinite customised solutions.